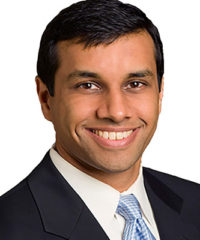 Dr. Deshmukh is a fellowship-trained orthopaedic surgeon specializing in total joint replacement, sports medicine, and minimally invasive reconstruction of shoulders, hips, and knees.
A Jacksonville native, Dr. Deshmukh was awarded the prestigious A.B. Duke merit scholarship to Duke University, where he studied biomedical and electrical engineering as an undergraduate. He then earned his medical degree at Harvard Medical School, and continued his training in the Harvard Combined Orthopaedic Surgery Residency Program at Massachusetts General Hospital, Brigham and Women's Hospital and Children's Hospital, all in Boston. He then was selected as chief resident at Harvard and completed a trauma fellowship. Following this, he pursued a Sports Medicine Fellowship at the prestigious New England Baptist Bone and Joint Institute. He developed expertise in arthroscopic procedures of the shoulder, hip, and knee and also served as assistant team physician for the Boston Celtics.
He has most recently completed his fellowship training in adult reconstructive surgery as an Otto E. Aufranc fellow at the New England Baptist Bone and Joint Institute, which performs more than 3,000 replacements annually. Dr. Deshmukh received hands-on training on over 600 complex primary and revision reconstructions of hip, knee, and shoulder replacements. He has gained significant expertise in the most up-to-date technological advances, including ceramic and metal joint replacement, computer-assisted navigation, and minimally-invasive surgical techniques.